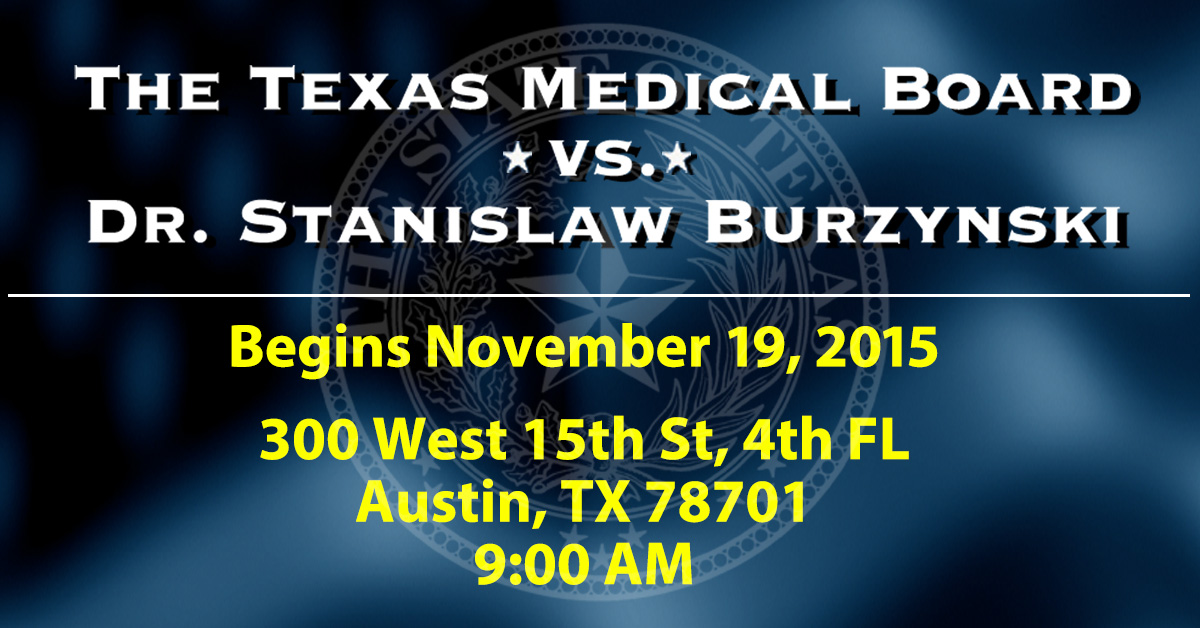 On November 19, 2015 The Texas Medical Board (TMB) opens the latest hearings against Dr. Burzynski and other doctors at the Burzynski Clinic alleging dubious charges in an effort to keep the clinic from treating any more people suffering from cancer and thus attempting to keep current and future cancer patients from making their own treatment decisions by seeking Dr. Burzynski as a treatment option.
Why are they doing this? Because they can. The TMB has exhausted all avenues trying to keep Burzynski from using his FDA-sanctioned invention, Antineoplastons, they went all the way up to the State Supreme Court and lost in that attempt — so now the TMB has to focus on Burzynski's "personalized cancer therapy" (as covered in "Burzynski: Part II") as a new plan of attack.
Be sure to follow The Burzynski Movie Facebook Page, Twitter, and Subscribe to this documentary series YouTube Channel to stay up-to-date during the trial. Eric Merola, the director and producer of the Burzynski: Cancer Is Serious Business Documentary Series will be there on Thursday and Friday (Nov. 19-20) to cover the opening dates and report back to the public throughout the day.
If you live in the Austin, TX area and would like to come out to show your support, be sure to follow this project's Facebook page or email us here. Otherwise you can show up at the 300 West 15th St, 4th FL, Austin, TX 78701 address before 9am or throughout the day.
Teresa Kennett, who was cured by Burzynski's Antineoplastons in the 1990s has started a Change.org petition, if you wish to sign it here. Learn more about Teresa's story here.
Watch Teresa's full testimony in Congress below
In case you missed some of the recent updates related to the Burzynski Saga, here are a few updates from 2015:
September 23, 2015 Update:
August 28, 2015 Update:
January 29, 2015 Update:
Getting annoyed by those who believe the negative propaganda?
Here is a link to recent peer-reviewed studies – here.
Here is a link describing the organized Astroturf campaign currently underway – here.